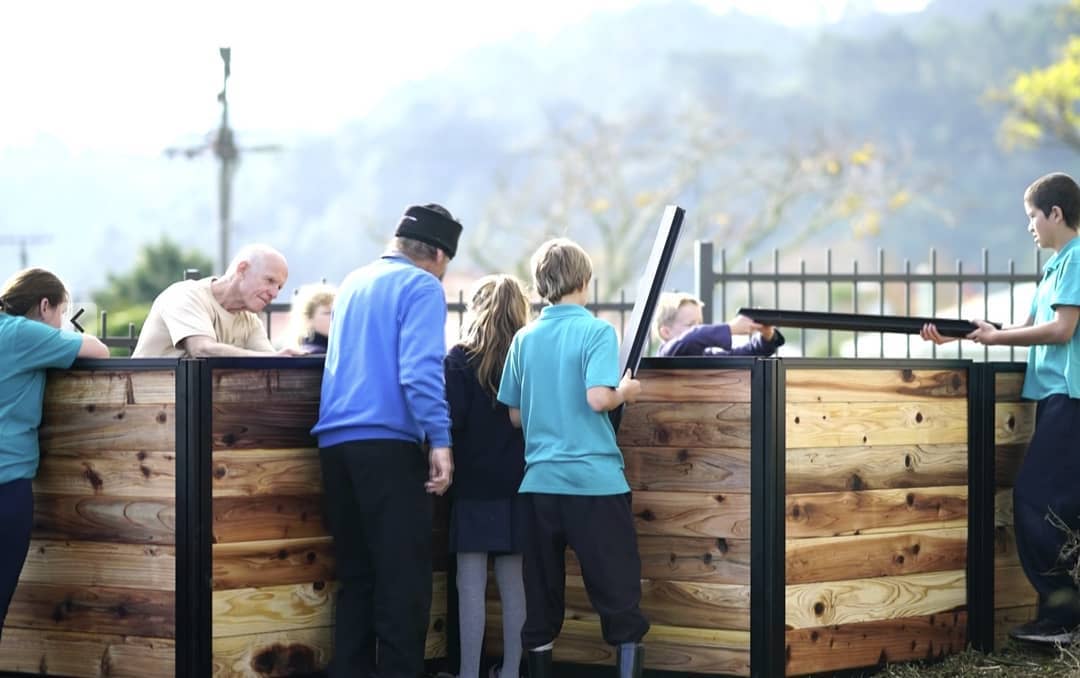 CarbonCycle in Schools
Ever wondered why we don't compost at school? So did we. Over the last few months, here The CarbonCycle Co we have been busy installing our composters in several New Zealand public schools, from primary to high schools. We have had so much fun working with kids and teaching them about the importance of composting for our soils and our planet. And we hope that our vision of widespread local composting and urban farming is another step closer to reality.
This article will explain in more detail what we have been doing and why.
How composting benefits schools
Education for students
Using a CarbonCycle Composter is a unique chance for children to learn first-hand what composting is and why it is so important. The CarbonCycle Composter is a gateway to teach kids about a number of important topics. These include reusing resources and diverting/separating waste, how food gets to our plates, and sustainability/regeneration (such as restoring the natural carbon cycle). What we need to show children is that we have been taught to think of as spoiled food that needs to be taken away is actually an extremely valuable resource. That food can be turned back into fresh food, which is the cycle of life and of nature. By seeing how composting works at school, students and their parents are also more likely to become motivated to compost and grow their own food at home.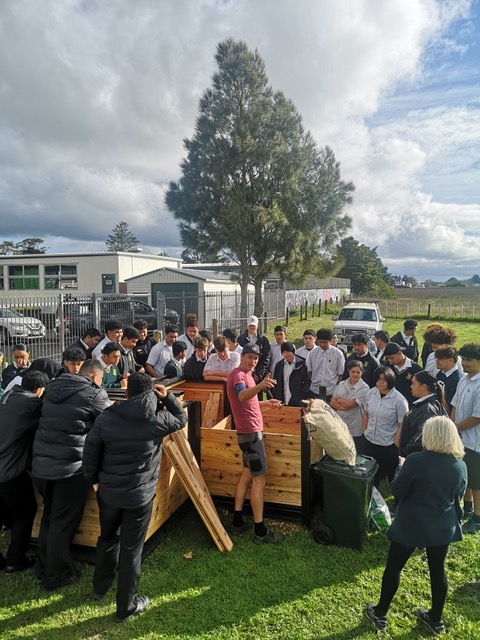 Reduces student climate anxiety
Using CarbonCycle Composters can help to reduce climate anxiety in students. Many young people today are understandably anxious about the future of our planet. They feel they have no control over climate change and that nothing is being done to stop it. They believe there is nothing they can do – but that's not true. All of this worry and distress could be put into productive energy if they were educated about the difference that composting alone can make. Composting locally (at school) helps the planet heal by putting the carbon back in the soil where it belongs. Each student's individual carbon footprint will be reduced if they compost all their food scraps at school and the compost is used to grow food. This is because, by making compost, they will be avoiding the creation of methane gas (which is the major problem with landfills), and, by using compost, they avoid the use of artificial fertilisers, and sequester carbon in the soil. By eating food that is grown with the compost they make, they will have substituted an unsustainable food source (a source of carbon emissions) for a source of carbon sequestration.
Puts food at schools back into its natural cycle
Composting assists schools to get their processes in sync with natural cycles.
Installing CarbonCycle Composters gives schools a fully on-site place to take their food and garden residues and turn it back into food by composting it and fertilising the school's kitchen garden with it. Let's face it – there is a lot of leftover, spoiled, or unwanted food at the end of lunch time. Traditionally, schools have not acknowledged that these leftovers are actually a source of fresh food and a way to sink carbon. But we are seeing great changes. When food residues are put back into the soil, it not only turns into food, it also sequesters carbon, so there is a double benefit. In stark contrast to food in landfill emitting carbon emissions, composting can instead draw carbon out of the atmosphere. Some schools send food scraps to be processed offsite (accumulating waste miles); more schools send it back home with students or throw it in the rubbish at school where it inevitably ends up in landfill. With a CarbonCycle Composter, there is a safe onsite location where all leftover food can go to be sustainably processed.
Lets schools grow their own healthy food
Composting at school gives schools the opportunity to plant and grow their own food. Applying finished compost onto soil helps fruit and vegetables grow healthier. So even if a school already has its own garden, compost will make sure it thrives. Having their own fruit and vegetables will mean less hungry bellies for students. And schools can become more self-reliant: ensuring they can provide for their students in the long term. Food that is grown organically and that has been fertilised with compost is free from nasty chemicals. It is more nutrient-dense than industrially-grown food. So fresh, healthy produce can be grown on site and used to ensure no child ever goes hungry.
Composting efforts can continue to benefit the school and the community
Schools that are composting using the CarbonCycle Composting System well will produce plenty of surplus compost. This is great because if the schools have surplus compost, they can provide it to students who want to use it to grow their own food at home. If they still have a surplus, it can be sold or donated to local community gardens and urban farmers.
Composting at school gives an opportunity to fundraise for other resources by selling finished compost, produce, or food scrap processing services. If schools have plenty of compost or fresh produce to spare, they can sell these to people in the community to help fund the school gardening scheme. Some schools might offer the service of processing food waste from the wider community, which they can also charge a small fee for. This allows schools to raise money which can be spent on funding other sustainable activities for the school.
How the CarbonCycle Co is involved in schools
Around the beginning of the 2020 school year, several New Zealand schools applied for a sustainable funding grant from the Ministry of Education to install CarbonCycle Composters. In April, 8 schools had their funding approved and the CarbonCycle Co was set to install a total of 25 composters in schools. We congratulate the Ministry for its farsighted commitment to its schools and their children.
One by one we took our tools and CarbonCycle Composter components to schools and assembled them onsite, sharing our knowledge and helping the schools get started on their composting journey as we went.
Some of the Schools involved so far:
Want to see how our newly installed composters are looking in the schools involved? These are some of the great schools who are taking sustainability seriously and now have a fantastic resource in their school that they can make use of for many years to come:
Manurewa High School
Moanataiari School, Thames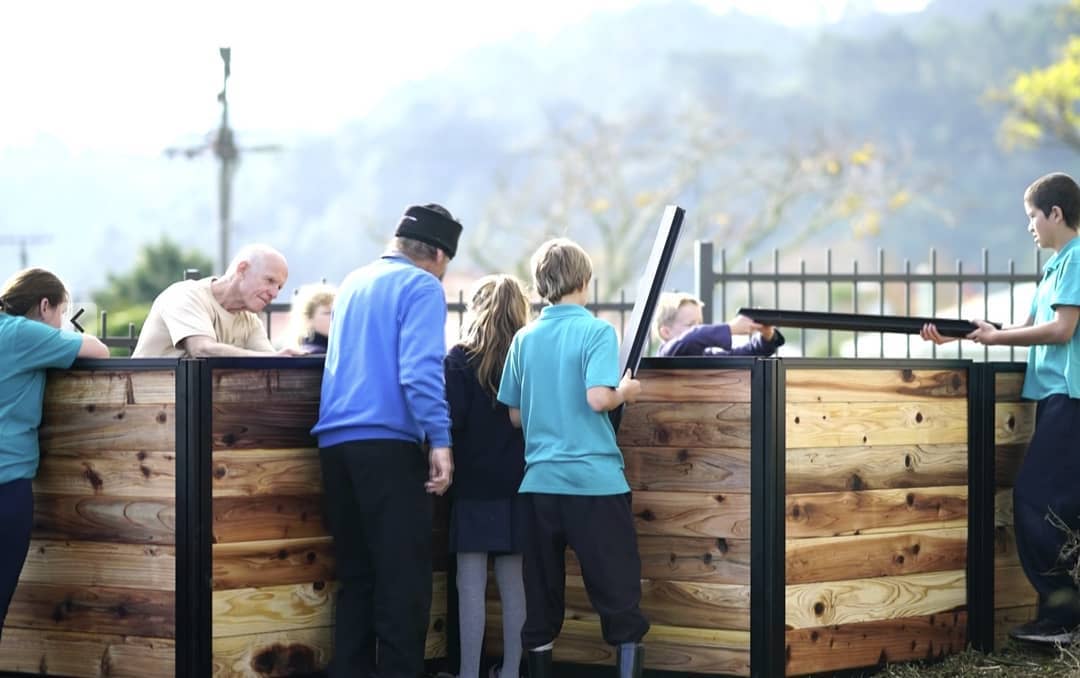 Parnell District School
Newmarket School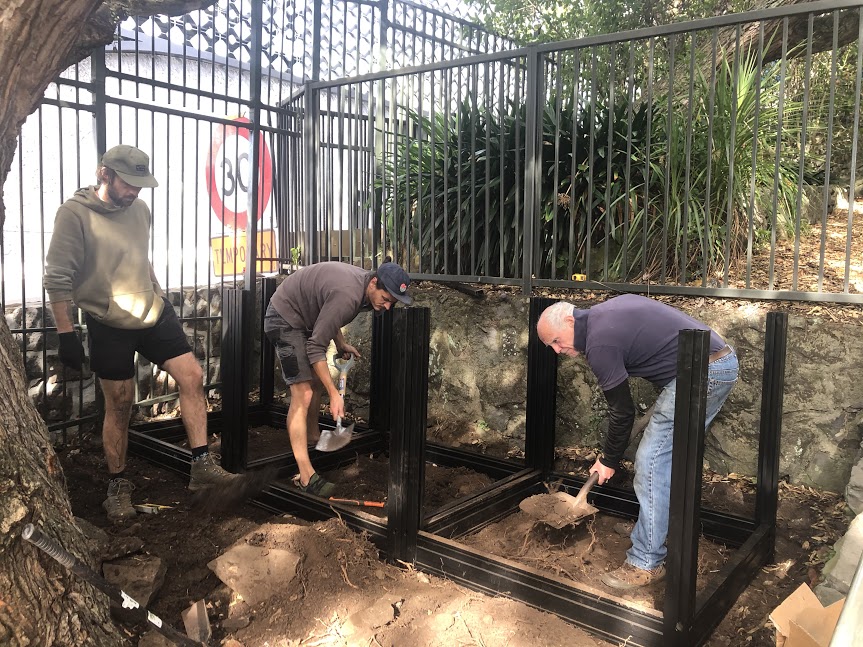 Kohia Terrace School
How to apply to get compost boxes at your school
Don't they look beautiful? So how do you get this for your school, you ask?
If you are involved with a state school in New Zealand and you would like to have CarbonCycle Composters installed in your school, you can apply for funding to have all the costs covered.
The Ministry of Education recently opened up funding for environmental activities in schools. They have called it the Sustainability Contestable Fund, and all the information is on their website. The last funding round has opened on the 22nd of June and closed on the 3rd of August 2020. At this stage, no further funding round is planned. If you are interested in getting CarbonCycle Composters in your school, however, please email teresa@carboncyclecompost.com and we will do our best to help with the current opportunities available.
If you want to get these composters installed in your school through the fund, The CarbonCycle Co provides personalised assistance, guidance, and information. So any New Zealand school that would like to apply to get funding for CarbonCycle Composters is invited to get in touch. We are also pledging to provide installation support and a workshop on composting for those who need it. This is because we want all schools to be making their own compost. This is most importantly an education opportunity but it is also a step towards long-term sustainability in our society. We are committed to making sure they are used well.
To find out more about CarbonCycle Composters, check out our info page.